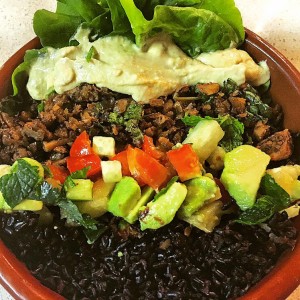 Walnut Meat Burrito Bowl with Cashew Cheese & Pineapple Salsa
A yummy light, healthy, vegan, nutrient packed meal that is so easy to make at home.
Walnut Meat
Blitz 1 cup walnuts in processor and cook off with 2 tbsp olive oil, 1 chopped onion, 2 chopped garlic cloves, ground spices (eg. tsp each of cumin, coriander, cayenne pepper, paprika). Add 2 chopped mushrooms, tbsp dried oregano, water (enough to soften walnuts), 3 tbsp Worcestershire sauce, handful chopped fresh coriander leaves, salt & pepper. 
Cashew Cheese
Blend 1 cup raw cashews (soaked for 1hr)
¼ cup filtered water
¼ cup nutritional yeast
2 Tbs. lemon juice
2 cloves garlic
1 Tbs. raw apple cider vinegar
1 Tbs. dijon mustard
sea salt and pepper to taste
Pineapple Salsa
Fine dice pineapple, tomato, cucumber & avocado. Squeeze over 1/2 fresh lime juice and scatter mint leaves
Serve with fresh greens like butter lettuce and wild black rice. You can also make it a burrito. Heaven!