Vegan 'Parmesan'
Whether you're dairy free or not, this is such a yummy recipe to have on hand to use as needed on pasta, pizza, oven bakes to form a beautiful crust, and salads. The flavour is so similar to parmesan cheese!
Ingredients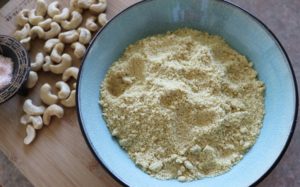 3/4 cup raw cashews
3 tbsp nutritional yeast
3/4 tsp sea salt
1/4 tsp onion powder
Method
Add all ingredients to a food processor and pulse into a fine crumb. Store in the refrigerator so your 'parmesan' stays fresh for weeks.