Teriyaki Sauce
We encourage everyone to include more vegetables in their diet for optimum health, care for our precious animals and for the environment. Make your plate interesting, full of yummy veggies. The addition of a delicious sauce turns any meal into a gourmet delight! Try this healthy teriyaki sauce with a selection of cooked and raw vegetables and soba noodles.
Ingredients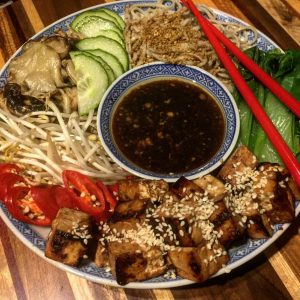 2 tbsp coconut oil
3 cloves garlic, crushed
1 knob ginger, grated
1 tbsp rice flour
3/4 cup tamari
2 tbsp honey
2 tsp apple cider vinegar
1 tsp sesame oil
Method
On medium heat, fry garlic and ginger in coconut oil. Add rice flour and cook for 30 seconds.
Add tamari, honey, ACV and sesame oil.
Simmer for 3 minutes until thickened slightly.
Option to more honey if preferred sweeter.
Sauce will keep in the fridge for 1 week.
Our plate includes, grilled sesame tofu squares (marinated first for 10 minutes in our teriyaki sauce); fresh chilli, bean shoots, grilled oyster mushrooms; cucumber slices, soba noodles with seaweed and sesame seed mix; blanched pak choy. Pour on teriyaki sauce, mix together – YUM!