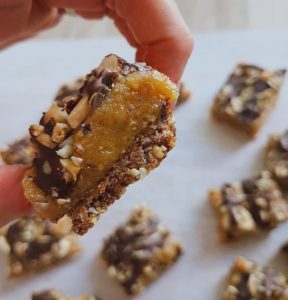 Snickers bar slice
Base-
1/2 cup hazelnuts
1/4 buckwheat kernels/ buckinis
1/4 cup desiccated coconut
Roughly 4 medjool dates
1 tsp coconut oil
Blend in food processor until well combined & press into a baking tray. Bake for 15mins or until just golden at 180 degrees cool in freezer while blending caramel.
Caramel –
6 dates
1 tbs nut butter (almond, cashews, peanuts) * you can just use an extra tbs of peanut butter
2 tbs peanut butter
2 tbs tahini
2 tbs rice malt syrup
1 tsp vanilla extract
1/4 cup coconut milk * may need more if its too thick, should be thick but creamy so use your judgement here.
Pinch salt
Blend in food processor until thick & creamy, spread over base.
Add chopped nuts & gently press into caramel. *I used macadamia and almonds* Peanuts would be fantastic in recipe also
Chocolate topping-
50g smooth dark chocolate
Melt in the microwave and drizzle over the top.
Recipe by Jessie Miles