Turkish-inspired RED LENTIL & CAPSICUM SOUP w CASHEW SOUR CREAM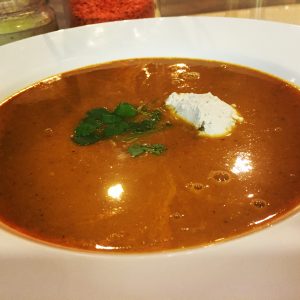 A delicious vegan meal that's perfect for lunch or dinner and warms us from the inside on these cold Winter days.
Red Lentil & Capsicum Soup
INGREDIENTS
Olive oil
1 onion, chopped
3 cloves of garlic, chopped
2 tbsp store-bought Middle-Eastern spice mix or make your own (ground cumin, paprika, ground coriander, ground cinnamon, dried oregano, black pepper, red pepper flakes)
1 red capsicum
1/2 cup red lentils
1 tin tomotoes (or 2 large fresh tomatoes)
3 cups (more if needed) water or vegetable broth
Sea salt (to taste)
fresh coriander (to garnish)
DIRECTIONS
Heat oil in a saucepan over medium heat. Add onions, garlic and pinch of salt and cook until translucent. 5 minutes.
Add the spices and stir well. Cook spices until aromatic. Add capsicum and cook for another 2 minutes, then add tinned tomatoes, red lentils, water and stir. Bring to boil. Then, reduce heat to medium-low and continue to simmer for approximately 15 minutes until the lentils are tender – add more water if needed. Taste and adjust salt and spice. Cool slightly and blend. Garnish with fresh coriander and cashew sour cream (see below)
Cashew Sour Cream
INGREDIENTS
1 1/2 cups raw cashews, soaked for at least 1 hour (4 hours if you have time)
3/4 cup water
2 tablespoons fresh lemon juice
2 teaspoons apple cider vinegar
1/2 teaspoon fine sea salt
DIRECTIONS
Place cashews in a bowl and cover with water and soak for 4 hours. For a quick-soak method, pour boiling water over the cashews and soak for 1 hour. Rinse and drain.
Place the drained cashews in a high-speed blender.
Add the water, lemon, vinegar, and salt. Blend until very smooth. You might have to stop to scrape down the blender now and then or add a touch more water to get it going.
Transfer into an air-tight container and cool in the fridge. The cream will thicken up as it cools. The cream will keep in the fridge for about 1 week and freeze well.