Raw Chocolate Mousse Tart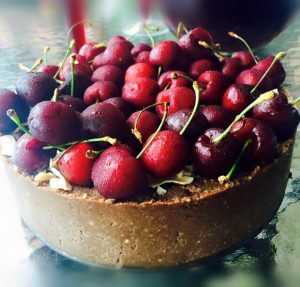 This tart is decadent, deliciously healthy and rich in protein, antioxidants and good fats.  The chocolate avocado mousse filling also makes a great dessert on its own.
For the base:
2 cups raw nuts (almonds, cashews, pecans) use any or a combination 
1/2 cup shredded coconut 
1/3 – 1/2 cup honey
1/4 cup coconut oil
Pinch of salt
For the filling: 4 ripe avocados seeded & peeled
1/2 cup raw cacao 
1/3 – 1/2 cup maple syrup
1 tsp vanilla extract 
Pinch of salt
Prepare base by combining all ingredients in a food processor till crumb texture.
Press into a non stick 20cm tart or springform tin with removable base.
Place in freezer to set while you make filling.
To make filling process all ingredients until well blended, keep scraping down the sides till the avocado is completely mixed through. If you want more chocolate ( tastes too much like avocado) add more cacao and adjust sweetness. For a thicker glossy mousse add 1/4 cup coconut oil. For a lighter mousse add 3 tbls thick coconut cream.
Spoon mixture in base, smooth over the top and chill well in fridge. Decorate with fresh berries, cocoa nibs or shaved coconut.
Keep in the freezer and take it out 30 minutes before serving.
Enjoy!