Pumpkin & roasted capsicum soup
1/4 Kent pumpkin cut roughly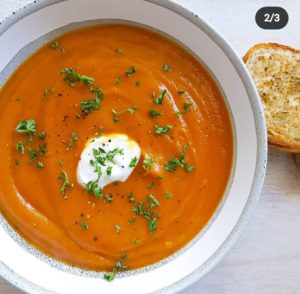 1 brown onion sliced into quarters
2 carrots peeled & roughly chopped
1/2 red capsicum sliced
Vegetable stock (enough to just cover the vegetables)
Put pumpkin, 1/2 of the brown onion and carrot into a pot with stock to just cover the vegetables. Lightly oil capsicum & other half of the onion and put on a baking tray into the oven at 200degrees for roughly 20-25mins or until browned and cooked through. Meanwhile boil veggies in pot until soft and tender. Once cooked through, peel skin off capsicum and put all ingredients into a blender *try not to add too much of the liquid from the pot, or it will be too watery. Blend until smooth, season with salt & cracked pepper, top with chopped fresh parsley and coconut yogurt. Serve with some garlic or crusty bread.
Recipe by Jessie Miles