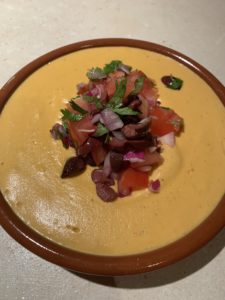 This is everything you can dream of in terms of taste, texture and sheer goodness!  A great recipe for a stand-alone dip or to use as your cheese topping on nachos.
1 medium potato, peeled and cubed
1 medium carrot, peeled and chopped into small pieces
1 small onion, halved
1/2 cup raw cashews
1/2 cup nutritional yeast
1/2 cup plant milk
1 garlic clove
1 tsp. salt
1-2 chillies (to your liking)
METHOD
Place cashews in a small bowl. Pour boiling water over the top to cover completely.
Place diced potato, carrot and onion in small saucepan. Cover with water and bring to a boil. Reduce heat and simmer uncovered until vegetables are soft (aprox 20 minutes).
Drain cashews and vegetables and add to blender.
Add remaining ingredients and blend until sauce is smooth. Add extra milk as needed to attain desired consistency (thick for dipping, thinner for drizzling).
Garnish as you like – we've used finely chopped coriander (cilantro), olives, red onion and tomato.