Cold & Flu elixirs are needed at this time of year! I've been ducking and weaving the flu that was been affecting so many people around me. Whilst I totally believe in a good cold to clean us out once in a while, 
I do my best to create some home brews when I feel even a hint of a sore throat! A home-made Laksa does the job! Be sure to add a fresh knob of turmeric into the laksa paste for a wonderful anti-inflammatory, anti-bacterial and respiratory support. Here's my brew:
Make a fresh made paste: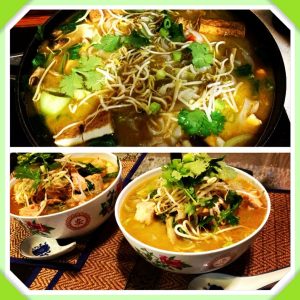 2 stalks Lemongrass
2 Kaffir lime leaves
1 knob ginger
1 knob tumeric root
1 chilli
1 onion
2 cloves garlic
1 tbsp Coconut oil
Grind in mortar & pestle or in food processor
Fry off paste and add enough water (or vege stock) plus coconut milk to make a soup. Simmer for a few minutes. Add in veges (I used mushrooms, marinated tofu & bok choy) plus noodles (optional, I used Konjac noodles – they are a vegetable made into noodle) and cook (will only take a few minutes)
Season with tamari, tamarind paste (optional), coconut palm sugar and lots of fresh squeezed lime juice. Add coriander and bean shoots.
Sore throat be gone!