December 28th, 2014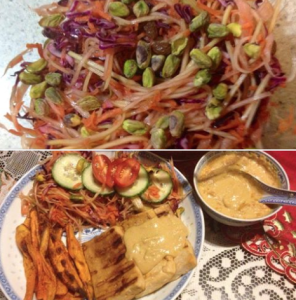 GREEN PAPAYA & PURPLE CABBAGE SALAD with PISTACHIOS.
My mum grows papaya in her back yard and they make an awesome salad when green. Green papaya also literally dissolves toxic fat from your body.
Shred green papaya, purple cabbage, carrot, add raisins, pistachios and a Thai inspired dressing of fresh lime juice, chilli, tamari and coconut palm sugar.
Thanks mum this was so yummy for dinner last night! We served with grilled tofu, roast sweet potato chips and homemade satay sauce (recipe to come!) C xo