Cherry Chocolate Mousse
A decadent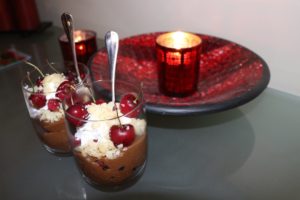 dessert that guarantees deep satisfaction and is made of light wholesome foods. This recipe serves 4, however, we recommend using intuition when making desserts like this – a bit of this and a bit of that until the flavour suits you!
Ingredients
2 ripe avocados.
1/2 cup coconut cream
1/4 cup raw cacao powder
1 tbsp maple syrup (more if desired for extra sweetness)
1 teaspoon vanilla extract
20 cherries – 8 pitted, 12 whole as a garnish
Coconut yogurt (optional garnish)
8 Macadamias, small chop (optional garnish)
Method
Blend all ingredients except cherries to make a mousse. Taste and adjust sweetness. Fold pitted cherries into mousse, spoon into glass or small ramekin and set in fridge for at least 20 minutes. Serve with whole cherries as a garnish plus optional garnish such as a few spoonfuls of coconut yoghurt and chopped macadamias (as seen in pic).