Beetroot Hummus with Dukkha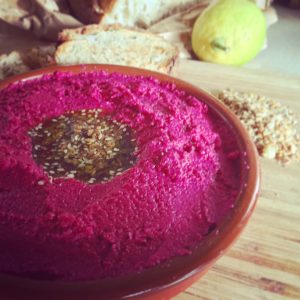 I'm in love with the colour of this Beetroot Hummus! Food healing tells us to observe colours and appearance of food to gain insight into what body parts, functions or chakras are healed. It's easy to see how beetroot is good for our blood and circulation with its incredible red depths.
Beetroot Hummus
1 large or 2 small-medium beetroot, peeled and large chop
1 cup cooked chickpeas (either from a can, or I personally like to boil from fresh – takes 45min – don't add salt to boiling water)
1 tbsp tahini
1/2 – 1 fresh lemon juice (to taste)
1 garlic clove (or more if you love garlic) fine chop
2 tbsp olive oil
Sea salt and pepper to season (to taste)
Boil beetroot until soft . Drain but retain the beet water. Blend cooked beetroot with remaining ingredients with enough beet water to make into a smooth paste. Adjust lemon and seasoning to taste.
Dukkha
1/2 cup sesame seeds
1/4 cup hazelnuts
1/4 cup almonds
2 tablespoons coriander seeds (or ground)
2 tablespoon cumin seeds (or ground)
Toast briefly in a pan on medium heat (you will smell a beautiful toasted aroma, this is when the mix is ready)
Mix in blender or food processor
Tip – use any nuts and seeds you have
Serve beetroot hummus with a well in the centre to fill with olive oil and dukkha. Add more dukkha to the side with toasted sourdough or turkish bread.