Dahl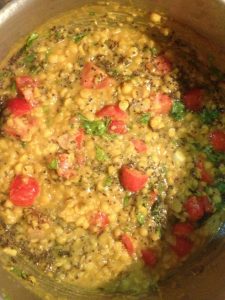 1/2 bag yellow split
peas. Soak overnight or during morning.
1 knob of grated ginger, 1 diced onion, 3 cloves of garlic, 2-3 tbs of curry powder, 1 tsp asafoetida (also known
as Hing to assist digesting any legume) and fry off in coconut oil.
Add yellow split peas and cover with water. Cook until tender. Keep checking there is enough water. Add more if necessary.
When cooked, turn off heat & add fresh cut tomatoes. Add 1 tsp tamarind concentrate. Season.
Before serving, in separate small saucepan fry off in coconut oil, 2 tbsp cumin seeds and 2 tbsp black mustard seeds with about 12 curry leaves. Pour over and mix into dahl.
Serve with fresh cut coriander mixed in.