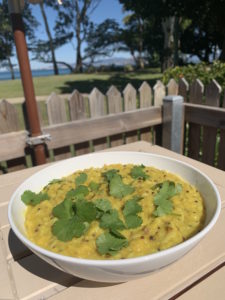 Kitchari is a wonderful one-pot dish suitable for all Ayurvedic constitutions/doshas and is especially nourishing in the Winter months.  Kitchari can assist in healing digestive issues and provides a gentle detoxification for the body.
Ingredients:
2 tbsp coconut oil
3 tbsp brown mustard seeds
3 tbsp cumin seeds
2 tbsp ground turmeric
1 large knob ginger, grated
2 large cloves garlic, small chop/grated
2 cups red lentils
1 cup Basmati rice
9 cups water
Sea salt (to taste)
Juice 1 lemon
Fresh coriander for garnish
Method:
In a large pot, fry mustard seeds, cumin seeds and turmeric in coconut oil on a medium heat for 1-2 minutes or until they are toasted and an aroma is present, then add ginger and garlic and fry for another minute
Add lentils and rice and mix/coat in oil and spices
Add water and put on lid, bring to boil, then remove lid and continue to cook until liquid has been absorbed (approximately 20 minutes)
Turn off heat, add salt to taste and lemon juice
Serve and garnish with coriander
Please note, this makes a large quantity which will store in the fridge for up to 1 week.  Reheat with extra water.