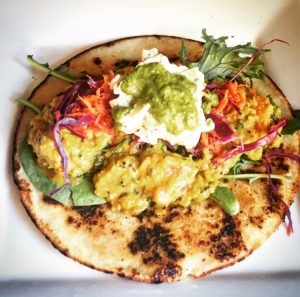 This is the easiest cheat's naan bread recipe that is super yummy, healthy and gluten free.
Ingredients
1 can coconut milk
1/2 can almond meal
1/2 can tapioca or rice flour (can use spelt flour, however, it won't be fully gluten free)
tsp sea salt
2-3 tsp garlic powder
Coconut oil for frying dough
Method
Pour can of coconut milk in mixing bowl and use the same can to measure out the almond meal and flour. Add salt and mix well. In a low-medium heated pan, lightly coat the pan with coconut oil, spoon in enough dough to coat the pan (like a pancake), sprinkle on garlic powder and cook until golden brown on both sides. You should have enough dough for 5 medium sized naan breads. Ensure you do have the pan on the low-medium heat as you will need to cook the dough thoroughly in the middle and crisp the edges.
Here we have served our naan like a wrap with greens, dahl, coleslaw, coconut yoghurt raita and coriander chilli sauce. YUM!